The Civic Roundtable is an annual event offering 30 fellows from different European countries and beyond a platform to study trends and challenges and to experiment with various ways to forge better civics across Europe. Some of the participants are alumni of the Schools of Political Studies, whilst others are active in NGOs, think tanks, government bodies or academia across the continent.
The discussions are facilitated by prominent academics and opinion-makers. There have now been two successful editions of the Civic Roundtable.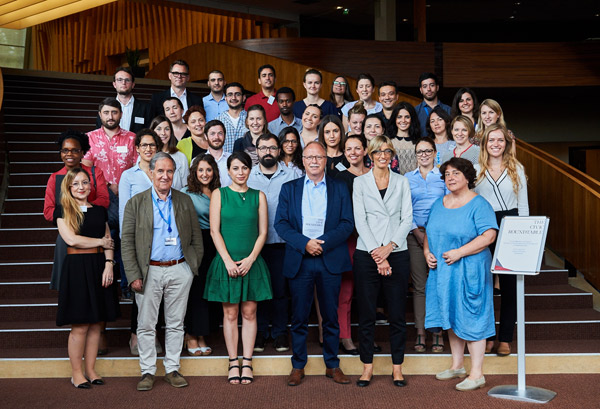 2017 Civic Roundtable – Migration and Forced Asylum
The second edition of the Civic Roundtable was organised by the Council of Europe in cooperation with the Association of Schools of Political Studies on the topic of "Forced Migration and Asylum: Dynamics and Policy Responses in Europe and its Neighbourhood."
Held in Strasbourg from 10-11 July, the Roundtable brought together 32 young professionals working in the field of migration, from governments, public bodies, think tanks, international organisations and NGOs. Over the course of the two days, participants shared experiences and good practices, looking at national and international policy responses. Specific topics of discussion included the growing anti-migrant populist rhetoric, the role of local authorities and civil society in the reception and integration of refugees, unaccompanied children and family reunification, and the prospect of setting up a CoE Academy for Democratic Leadership for persons with a refugee background.
Guest speakers included Tomáš Boček, the Special Representative of the Council of Europe on Migration and Refugees; Giulia Lagana from the Open Society European Policy Institute and Kilian Kleinschmidt, former manager of the Za'atari Refugee Camp in Jordan.
Working both in plenary and in smaller working groups, the Civic Roundtable offered young leaders to study trends and challenges across the European continent and beyond, as well as to build a peer network for future exchange.
2016 Civic Roundtable – European Civics
The 2016 edition of the Civic Roundtable was co-organised by the Council of Europe and the European School of Politics in Istanbul, with financial support from the Mercator Foundation. The Roundtable was held in two parts, in Berlin and Strasbourg. Guest speakers included Joschka Fischer, Kalypso Nicolaides, Branko Milanovic, Rama Yade and David Gardner.
During the Berlin session in May, the participants were invited to discuss prospects of inclusive economic growth, trends related to inequality and social mobility, Europe's role in the world, migration challenges and the associated changes to social capital and the social contract.
At the Strasbourg session in June, the participants presented the results of their reflections to the Secretary General of the Council of Europe in a report entitled: "Towards a new European civics".