World
Forum
for
Democracy
2017
Is Populism a problem?
The 2017 World Forum for Democracy (8-10 November) asked "Is Populism a Problem?" and focused on the role of political parties and the media in the context of rising populism in Europe and beyond. How can pluralism, freedom of expression, and fair and evidence-based public debate be safeguarded in these new conditions? How can we foster a political culture which embraces a more long-term perspective? Are there social structures that can replace political parties in building social capital and providing frameworks for grassroots political debate participation and decision-making?
The objective of the World Forum for Democracy 2017 was to review novel initiatives and approaches which can enhance democratic practices and help parties and media, but also other political actors, to re-connect to citizens, make informed choices and function optimally in a 21st century democracy.
Over the course of three days, over 500 participants from the Schools of Political Studies, along with other young leaders from around the world had the chance to discuss these questions through a series of panel discussions, debates, labs, lightening talks, and plenary sessions in the hemicycle of the Council of Europe. A series of additional events were offered to participants of the Schools of Political Studies cycles, including visits to the European Court of Human Rights, meetings with the national Permanent Representations, Networking Lunches and bilateral or thematic meetings between Schools.
More information can be found on the Forum's website.
The special programme of additional events for Schools' participants can be found here.
ASPS Public debate "Populism: A force for good or ill?"
In the sidelines of the World Forum for Democracy 2017, the Association of Schools of Political Studies held a public debate in Strasbourg City Centre entitled "Populism: a force for good or ill?"
Panellists included Catherine Lalumirère, Ana Gomes, Krzysztof Bobinski, Emil Pain and Quentin Peel, with moderation by Fernanda Gabriel.
Following the presentations by our five speakers on the situation of populism in their own countries, the debate was opened up to the audience and a lively discussion ensued. Topics included the question of whether populism can be defined and understood in the same way in "old" or western democracies and "new" or post-Soviet democracies. In addition, in countries which are not pluralist democracies at all, can populism even be said to exist at all?
On the occasion of the 28th anniversary of the fall of the Berlin Wall, some parallels were made between the populism of the late 1980s which arguably had a positive impact, leading the fall of many communist regimes across Europe, and the more ambiguous form of populism taking hold today.
Highlights
Diploma ceremony with the Secretary General for participants from the Schools of Political Studies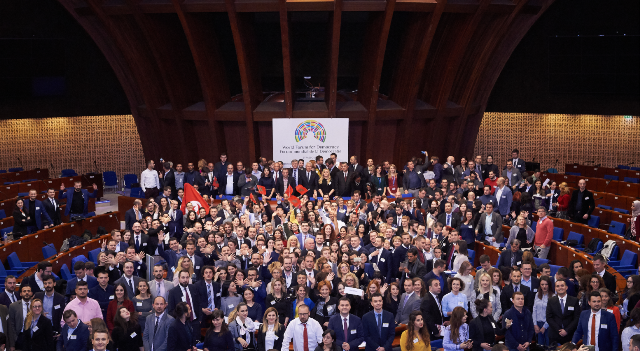 Artistic performance by Lisa Simone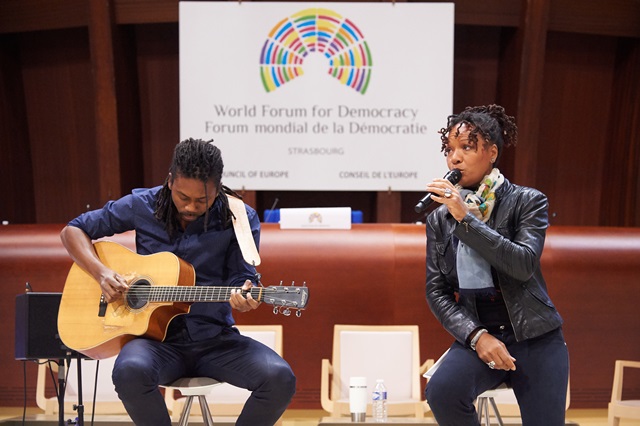 Artistic performance by Shavnabada Ensemble, Georgia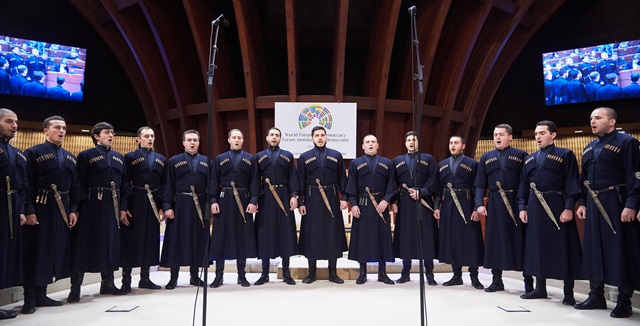 Panel debate sponsored by the Schools of Political Studies on populism and anti-migrant rhetoric