12/12/2017
-
Albanian
School
of
Political
Studies
celebrates
10th
anniversary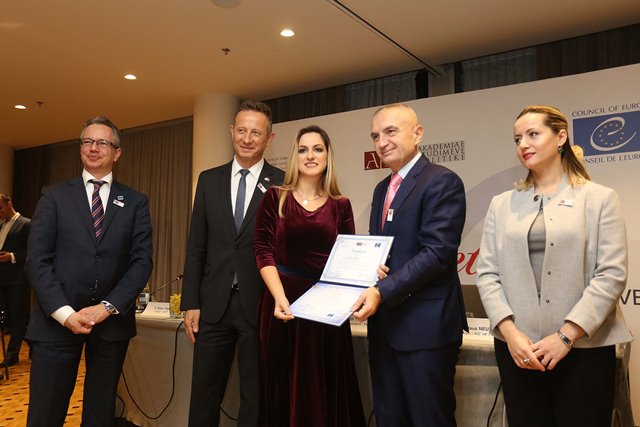 On 5 December 2017, the Albanian School of Political Studies celebrated its 10th anniversary in a ceremony attended by numerous personalities including Ilir Meta, President of the Republic; Senida Mesi, Vice-Prime Minister and SPS alumna; Claus Neukirch, Head of Council of Europe office in Tirana; and Christoph Graf, the Swiss Ambassador in Tirana, who praised the role played by this school founded by the CoE with Swiss support.
In its goal of educating new leaders, the school's programme remains unique, as it brings together representatives of different political forces, key decision-makers, local authority representatives, civic activists and opinion-makers with the aim of exchanging experiences, facilitating dialogue and generating new ideas.
The President of the Republic, Ilir Meta, cordially saluted the Albanian School of Political Studies' activity during his address, defining it as an excellent opportunity for young people to unveil their individuality as leaders of the future by taking over major responsibilities."Bring a change to Albania through your actions, and even more importantly, take on major responsibilities for the country's future."
The director of the Academy of Political Studies, Erjon Tase, expressed gratitude to the partners for their support and also to the participants for their engagement: "Democracy and good governance can never be taken for good without a committed society, without young people who are prepared and active to be guardians of democratic values. All of you School participants have proven that you want to be the protectors of these values."
The event was honoured by the presence of two former Presidents Rexhep Meidani and Alfred Moisiu as well as other well-known politicians and professionals who have served as lecturers at the School's courses. Those who received their certificates from the 2017 annual training cycle on this special occasion will join the network of over 290 alumni who have graduated from the Albanian SPS over the past ten years.