Albania
-
Academy
of
Political
Studies
(2007)
Operational since 2007, the Academy of Political Studies (APS) in Tirana was formally founded under the auspices of the Council of Europe in 2009 and aims to encourage the emergence of a new generation of young political and civic leaders dedicated to implementing the best democratic models of governance and development.
Academy of Political Studies
Rruga "Emin Duraku", Pallati Credins
Hyrja 1, kati 7, Ap. 21
Tirane, Shqiperi
Tel. : +355 4 562 90 47,
E-mail :
This email address is being protected from spambots. You need JavaScript enabled to view it.
;
This email address is being protected from spambots. You need JavaScript enabled to view it.
Website :
www.asp.al
Director
: Erjon TASE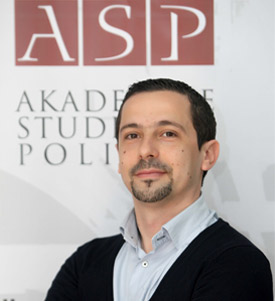 "Albania needs leaders who are eager to learn and to share their ideas with others, whether similar or different. In this way, participants are able to better themselves, becoming more open in responding to the demands of voters or their peers in the administration or private business; more open to listening to the right advice before making decisions; more tolerant towards the weakest; more responsive to criticisms and suggestions. In short, better leaders, who overcome their personal or party interests, in the name of development and integration of the country."

Erjon TASE, Director
About the School
The mission of the Academy of Political Studies is to foster a modern political culture based on the shared values of pluralism, tolerance and open dialogue, thus encouraging the emergence of a community of young political and civic leaders, dedicated to implement a contemporary democratic model of government. To achieve its mission, the Academy of Political Studies offers targeted trainings and public activities, with the following objectives:
· To encourage the development of responsible and ethical leadership among young political and civic leaders and to support them in furthering the mission of the Academy in their original social context
· To widen its participants' understanding of the core principles of good governance such as rule of law, legitimacy, transparency, accountability, accessibility and respect for human rights
· To provide opportunities for bringing together political and civic leaders from the whole spectrum of public life, to discuss a wide range of political, social and economic issues
· To stimulate transparent and clear decision-making and legislative process that takes into account different public interests and opinions
· To sharpen its trainees skills and knowledge regarding the practical aspects of the democratic process
· To enhance its trainees ability to participate in open public dialogue and debate as well as the inclusion of the media in this process
· To engender an appreciation for the values of participation, inclusiveness and the free exchange of ideas, thus fostering the growth of a vibrant and dynamic civil society.
The APS' contribution to democratic and reform processes in Albania comprises a number of programmes such as: First Time Voters Awareness-Raising on Democracy and Elections, Public Dialogue on the Sustainable Use of Energy and the Regional Academy of Democracy.
The profile of participants may be new and young members of parliament, officials of central and local institutions, elected individuals of city councils, communes, representatives from the judiciary, from the business, media and non-profit organisations or similar.
Those interested in applying should consult the website for exact requirements and dates of the application process.
About the Director
Erjon Tase was a participant at the Albanian School in 2008 and later contributed to the coordination of the ASPS alumni network. He has been the Executive Director since May 2012. Erjon Tase is an experienced journalist and opinion-maker in Albania. He has worked as an editor-in-chief of the most prominent print media in Albania for more than 10 years and is highly esteemed as an independent and balanced journalist, whose sharp political analysis contributes to shaping public opinion. More recently he has been engaged in developing marketing campaigns for private businesses and in the public relations sector. Much of his work has focused on strategic planning, fundraising and also on developing initiatives that broaden the participation of citizens, civil society groups, and other non-state actors in the development and monitoring of public policies. Since 2007 he has been on the founding and steering board of the "Union of Albanian Journalists" and the "Forum for Protection of Cultural and Historical Heritage".