Serbia
-
Belgrade
Fund
for
Political
Excellence
(2003)
Since 2003, the Belgrade Fund for Political Excellence has been supporting a process in which members of the political elite expand their knowledge of European values and institutions, European and Euro-Atlantic integration and respect for the basic principles of human rights, democracy and the rule of law. The seminars are designed for the younger generation of prominent politicians and their colleagues from the public administration, NGOs, the media, business sector.
Belgrade Fund for Political Excellence
Koste Glavinića 9, Apartment 6
11000 Belgrade
Tel./Fax: +381 11 30 36 520 ;
+381 11 30 36 521
E-mail:
This email address is being protected from spambots. You need JavaScript enabled to view it.
This email address is being protected from spambots. You need JavaScript enabled to view it.
Website:
www.bfpe.org
Director: Sonja LICHT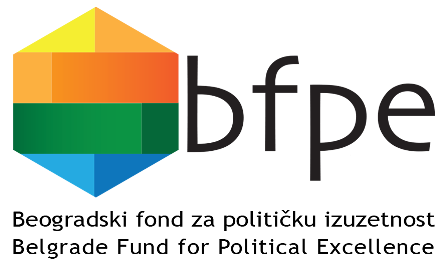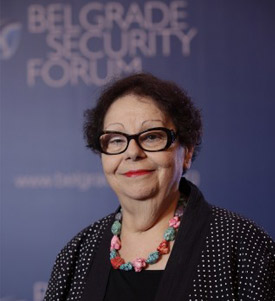 "The Belgrade Fund for Political Excellence represents an opportunity for a variety of decision and opinion makers to extend their knowledge through dialogue. During the past fourteen years we established a confidence building venue that is assembling actors from Serbia and the Balkans, and put a lot of efforts to build bridges between our region and the world, with a special emphasis on strengthening our European perspective. For me personally, the Council of Europe's Network of Schools for Political Studies confirmed, once again, that a project generated as a response to genuine local needs is powerful enough to survive many difficult external and internal challenges."

Sonja LICHT, Director
About the School
TThe core of the Schools' work is carried out through its Annual Seminars. The Annual Seminar is a one-year cycle of educational activities designed for the younger generation of prominent politicians and their colleagues from the public administration, NGOs, the media, business sector – people who have seriously begun their political and professional career and who perceive a need for additional learning and training. The main objective of the programme is to enable dialogue and the continuous development between democratically oriented leaders in politics and public life who will responsibly manage the state and society towards European integration.
We are pleased to note that the vast majority of our alumni have advanced in their subsequent political and professional careers. Alumni of the program are occupying positions of deputies, ministers, assistant ministers and state secretaries in the Government of Serbia, acting us mayors, party officials, editors, civil society leaders. Many alumni subsequently return to various programs BFPE not only as participants, but often as lecturers.
About the Director
Sonja Licht is a sociologist and political activist. Part of the Yugoslav dissident movement since the late sixties, she later founded many local and international NGOs, including a number of women's organisations. From 1991 to 2003, she managed the George Soros Open Society Fund in Belgrade, also co-chairing the Helsinki Citizens' Assembly, a coalition of European and North American civic organisations dedicated to peace, democracy and human rights. Sonja Licht has received many awards for her work, including France's Légion d'honneur, the Hiroshima Award, the European Chancellors' Club Peace Award, the International Human Rights Award, the Swedish Social Forum Peace Award and the Human Rights Award of the Albert Schweitzer Institute for Humanities. She founded the Belgrade Fund for Political Excellence in 2003 and continues to serve as Director, alongside her role as president of the Foreign Policy Council of the Serbian Ministry of Foreign Affairs.