Announcement
of
the
World
Forum
for
Democracy
2020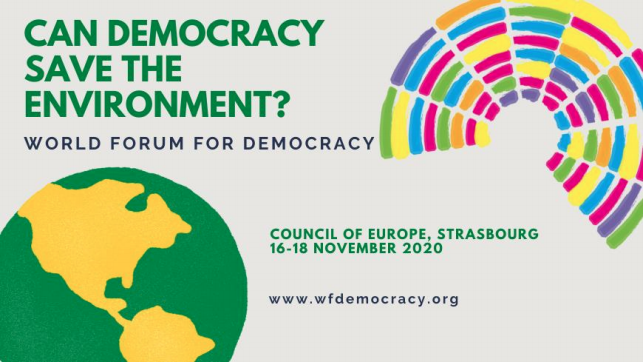 This year, the World Forum for Democracy 2020 will debate issues and generate new ideas for tackling the environmental crisis. The 9th edition of the Forum will take place in Strasbourg at the Council of Europe from 16 to 18 November 2020 and will be dedicated to environment and democracy. This edition will welcome leading voices from politics, business, NGOs, academia, journalism and citizen-led initiatives from around the world.
Our societies have been tested by an extreme and unexpected global challenge in 2020, but while an essential battle is fought against the Covid-19 pandemic, humanity's greatest existential threat looms ever larger. Environmental damage and climate change have not gone away. How can we mobilise ourselves to make fundamental change and to reverse the damage done to our environment? What economic, civil and human rights price are we willing to pay? Could new restrictions and behavioural change also "flatten the curve" of environmental damage? Do our governments enjoy sufficient trust to enable them to take the necessary action in time? These issues will be discussed throughout the Forum during plenary sessions and labs. Plenary sessions will be an opportunity to discuss and to frame the questions. Labs will allow participants to test initiatives that offer responses to the key questions. In addition to the main programme, a programme of special events will be organised for the Schools.
The Schools of Political Studies strive to create democratic, pluralistic and inclusive societies and today tackling the environmental crisis has become more important than ever. Over the past years, certain Schools have organised national training seminars on climate change and sustainable development. The 2020 World Forum for Democracy will be an opportunity to learn, share knowledge, network and take part in building a better society dedicated to changing the course of history and reversing the damage done to our environment.