Alumni
Interview
#14:
Alsaed
Sinani
Impressions and thoughts from SPS alumni on their experiences with the Schools of Political Studies
Alsaed Sinani (Albania)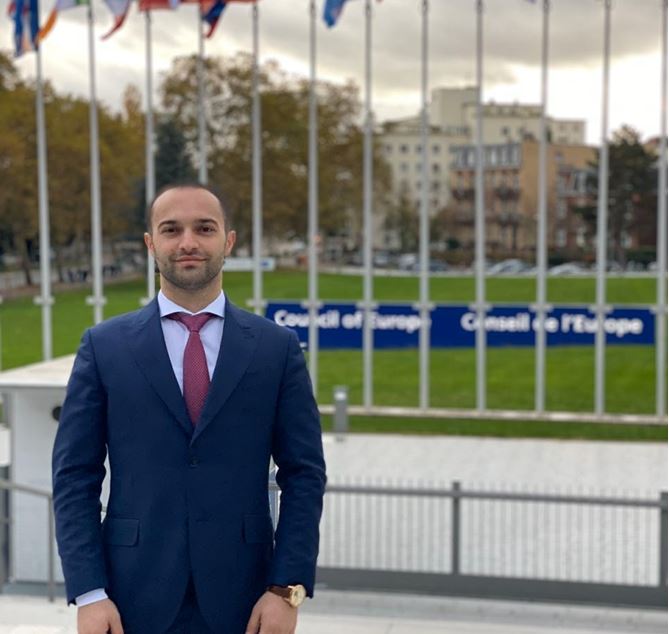 1) Tell us a little about yourself, your professional and academic path and interests as well as any other infomation that might let us know more about you.
My name is Alsaed Sinani. In 2017, I became a lawyer and I started working at the municipality of Shkodra (my birth town) as a legal specialist in the Directorate of Public Services. I am currently assigned to work as a legal specialist by the Institution of the Public Commissioners, one of the 3 institutions established by the transitional re-evaluation process of judges and prosecutors in the judicial system of the Republic of Albania. This process is a crucial and critical step in order to fulfil the conditions of the EU to integrate and to become a member of the EU. Each fulfilled condition of this process helps the integration of Albania in the EU. In line with my background and my previous experience, I hope to extend my knowledge in the fields of law, civil society and civil cases.
2) Which SPS did you attend and in which year did you graduate?

I attended the Albanian School of Political Studies from 2019 to 2020.
3) What was your most memorable experience during the training cycle?
I have a few memorable and valuable experiences of my time at the Albanian School of Political Studies. One of them is the classes we attended and the trips that we partook in with classmates, colleagues and foreign lecturers in various cities throughout our country. They had a major impact on our critical reasoning and approach to Europe. One lecture which impressed all of us at the Albanian school of Political Studies was when we had the pleasure and honour to discuss and interact with the president of the Association of Schools of Political Studies of the Council of Europe, Nils Muižnieks. Moreover, another beautiful challenge that demonstrated the integrity of our group was the earthquake that shook Albania on 26 November 2019. It caused a loss of many innocent people among which one of our colleague, deputy mayor of the city where the epicenter occurred. We were all united in facing this natural phenomenon, providing our help in overcoming the disaster. We demonstrated readiness and effectiveness.
4) What were your impressions of the World Forum for Democracy 2019?
In 2019, I attended the WFD, where I was very impressed by the event. It spread positivity and had an important societal impact. The opportunities and knowledge we acquired depended on the different approaches of the Forum's participants as there were many cultural perspectives. This allowed for us to connect and expend our network and gave the opportunity for different schools to mingle. This will allow for the implementation of important projects!
5) What impact did the SPS where you studied have on what you're doing now? Did it push you to get involved in a particular project, political party or other?
The Albanian School of Political Studies had a huge impact on my life. It allowed me to meet great people who not only became colleagues but also life-long friends. I would also like to emphasize the impact these studies had on me as I thought I had sufficient knowledge regarding political transitions and the governance framework but now I realize it had a profound impact on my career and personal development. Through this instrumental program, I identified the gaps and made efforts to put together fundamental projects.
6) If you could give one piece of advice to someone about to start the new training cycle, what would it be?

I recommend upcoming applicants/students to focus on learning and on the networking possibilities as well as to make the most out of every opportunity they will have there. This way, step by step, they will achieve their goals. You will learn a lot in this school.